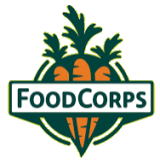 Healthy food is an essential building block for a full and productive life, but children across our nation face chronic barriers to eating it. Inequities in our country and shortcomings in our food systems have resulted in far too many children having insufficient opportunities to learn about, access, and enjoy healthy food, with one in three children in the United States overweight or obese (CDC, 2014).
FoodCorps recognizes the need to address obesity and diet-related disease where we can have the greatest impact on the most vulnerable children: schools. Schools are where children spend a third of their day and often eat half their daily calories. FoodCorps AmeriCorps members serve alongside educators and local leaders to support community-driven initiatives to connect kids to healthy food in schools, focusing on three areas of service: hands-on lessons (students grow, cook, and taste new foods, which builds their skills and changes food preferences); healthy school meals (the cafeteria experience steers students towards the healthiest options and gets them excited to try new healthy foods); and a school-wide culture of health (as a whole, the school community and environment—from hallways to classrooms to cafeteria to grounds—celebrates healthy food).
​Twenty FoodCorps AmeriCorps members will serve in some of the highest-need school districts in Connecticut. In order to carry out their terms of service, members acquire training in experiential nutrition and gardening education, classroom and volunteer management, community engagement, and safe food preparation. We are continually measuring the impact of our work — from children's eating patterns to our ability to transform schools into oases of health — to ensure we are making a difference. 
Ashley Taylor, Government Partnerships Manager
(212) 596-7045;  ashley.taylor@foodcorps.org
FoodCorps, 1140 SE 7th Ave., Suite 110, Portland, OR  97214